Digital marketing course in Delhi ncr (faridabad) Digital Marketing Training Institute in Faridabad – Learn Digital marketing from webhelpy Technologies live project based training.
Webhelpy providing 100% job placement to our students who are job seekers. Digital marketing course is for all – job seekers , working professional , students , business owners and others 
Digital Marketing course is growing at an exponential rate in  this modern world. Webhelpy Technologies providing best skills in live project based training and internship in digital marketing course
Digital Marketing refers to the marketing of your business using online promotion of your business on the Internet. Digital marketing is a vital part of modern marketing.
Digital marketing course training starts with SEO, Social media promotion and Google ADWORDS
Digital marketing allows you the ease of access, competitive advantage and is effective over any other conventional marketing means.
Best digital marketing training course internship live project training institute in faridabad delhi ncr classes of seo social media
google adwords webhelpy is the best institute for a digital marketing training course in Faridabad located in Sector-16 (Shubham Plaza), Faridabad job seekers online promotion internet 100% placement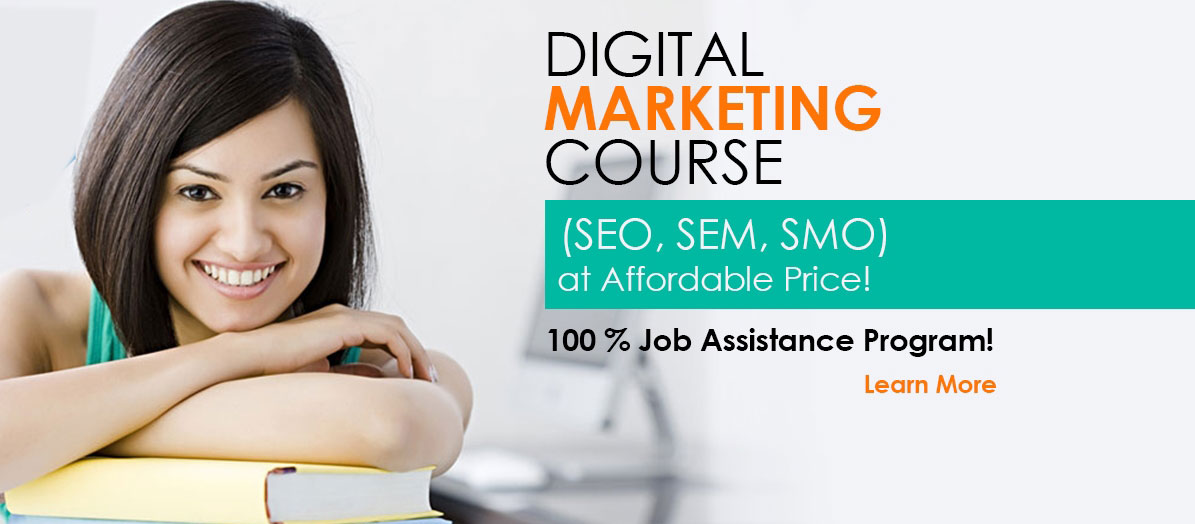 Digital Marketing course – skills!!!
Understand and manage various Internet platforms and tools.
Attract a lot of people towards your business.
Use content to connect to consumers online.
Track customers from the first interaction and throughout the entire buyer's journey.
Realize higher ROI and revenue
Digital marketing increases conversion rates by 24%!
40% of small business owners report saving money with digital marketing as opposed to traditional marketing.
Digital Marketing Training at Webhelpy
Digital Marketing skills need very deep-rooted understanding and skills that are very well thought and practiced.
We here at Webhelpy provides you the best trained professionals in the field, interactive learning department, learning through real life examples and latest technologies to deliver creative and effective digital marketing campaigns.
Webhelpy is located in Sector-16 (Shubham Plaza), Faridabad.
Get practical, hands-on experience with case studies, projects, tools, and exercises.
Interact with industry experts and faculty through exclusive forums and webinars.
---
So  if you are planning to join a Digital Marketing Training Institute then don't forget to pay a visit to Webhelpy Technologies for Digital Marketing course

Core Modules:
Search Engine Optimization (SEO) – Learn how to get website listed among top search engine results.
Social Media Marketing (SMM) – Learn how to build brand, generate leads & aggregate audience on Social Media.
Search Engine Marketing (SEM) – Learn how to effectively run ads on Search Engines.
Inbound Marketing – Learn how to attract & convert customers by earning their trust through various techniques such as content marketing.
E-mail Marketing – Learn how to effectively build your users lists, deliver e-mails & generate relevant clicks.
Web Analytics – Learn how to make business decisions from the metrics available in Digital Media.
Digital Marketing Internship in Faridabad
social media training in faridabad
Website Designing Course in Faridabad
Specialization Modules (Participants can pick and choose these sessions based on their objective of learning digital marketing )
Website Development using WordPress.
Affiliate Marketing.
Mobile App Marketing.
Learn how to create unfair advantage and exponentially Grow Online Business.
Integrated Digital Marketing Strategy.
How To Sell Digital Marketing Services?.
Blogging for Beginners.
Super Blogging.
Display Advertisement.
Advanced Google Analytics.
E-tail ( Online Listing ) /Website V/s Market Place.
Prepare Yourself For Career Opportunities in Digital Marketing.
Video Advertising.
Shopping Advertising.
COURSE DESCRIPTION
Name : Digital Marketing Training
Duration Month & Time : 3 Months  ( 1 hour 30 minutes class )
Add-ons : Overview of Google ad sense and Google certification.
Payment Installments : N.A
Contact Us now For Your Digital Marketing Training 
Contact Us- 8130326003
Email – support@webhelpy.com
Landline – 0129-4146115
Fill Up Your Enquiry
================================================================================
Join now our Digital Marketing Course and become a Digital Marketing Expert from best Digital Marketing Training Institute in Delhi ncr (Faridabad) . We are the best providers of Digital Marketing Training in Delhi ncr Faridabad . Our Digital Marketing Training program is very much mixed both practical and interview point of questions.
(Visited 62,100 times, 1 visits today)